Earlier today we passed along a video of what appears to be cases for the iPhone 15 Pro Max. And where the cutout used to be for the "Mute" switch is a new cutout for what will supposedly be an "action" button allowing the user to pre-select an action that will take place when the button is pressed. For example, you probably would be allowed to set up the button to:
Turn on/off flashlight.
Enable/disable Do Not Disturb.
Ring/Silent.
Lock/Unlock Rotation.
Take Screenshots.
Show the Home Screen.
Show the Lock Screen.
This is just a small selection of the choices you'll have If Apple does offer an action button. Many of the same options are available with Apple's Back Tap system which allows you to double or triple-tap the back of the iPhone for a pre-selected action to take place. And the only other differences noted with the case were larger camera lenses and a bigger microphone.
Meanwhile, on the Chinese social media site Weibo (via MacRumors), pictures of a different case for the iPhone 15 Pro model surfaced revealing that the power and volume buttons will be positioned lower than where they were placed on the iPhone 14 Pro. The picture of the case shared on Weibo also revealed a larger cutout necessary for the USB-C port which is replacing the proprietary Lightning port this year.
Similar to the case that my colleague wrote about this morning, this other case also has a different cutout for the "action" button which is expected to replace the "Mute" switch as we've already pointed out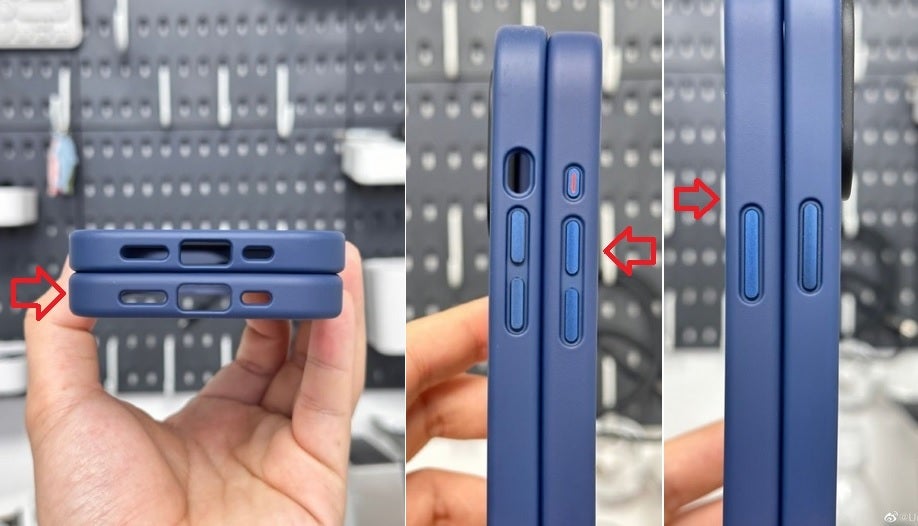 Arrows point to the case for the iPhone 15 Pro which is being compared to a case for the iPhone 14 Pro
What is interesting is that after years of widening the differentiation between the Pro and Non-Pro iPhone models, this year it would appear that the gap is being reduced. All four models will sport the Dynamic Island this year, and all four models will feature a 48MP primary camera. But there are still key differences between Pro and Non-Pro models including battery capacity, the refresh rates on the displays, and the application processors used on the devices.
For example, the iPhone 15 and iPhone 15 Plus will be powered by the A16 Bionic SoC which is currently found in the iPhone 14 Pro and iPhone 14 Pro Max. That chip is manufactured by TSMC using the third enhancement of its 5nm process node. The iPhone 15 Pro and iPhone 15 Pro Max will be equipped with the 3nm A17 Bionic. Thanks to costly wafer prices, these two iPhone models are expected to be the only smartphones to use a 3nm chipset this year.
Apple is expected to unveil the iPhone 15 lineup in September.