Android has come quite a long way from its early days. However, despite the progress Google has made to improve and speed up updates, there are still more than a few different versions of the mobile OS currently in use. And despite the Android 13 rollout continuing since the second half of 2022, its distribution still falls below other versions.
With that in mind, we want to know which version of Android your current smartphone is on. (We didn't include Android 14 because it's currently just in beta and only available on select Pixel smartphones).
---
More and more Android phones are launching with Android 13, and it seems like a ton of phones have received the update. That's probably because Samsung has done a good job updating its massive lineup of smartphones over the past several months. However, despite that, Android 13 only has a 12.1% distribution across active Android versions, according to Android Studio (via 9to5Google).
That percentage is below Android 12 (16.5%), Android 10 (18.5%), and Android 11, which is currently the most widely used version as of April 2023, sitting pretty with a sizeable 23.5% share of the pie. That said, Android 13 appears to be growing fast, as its distribution has apparently doubled in the last three months.
Somewhat surprisingly, even older versions of Android are still in use, as shown on the distribution chart.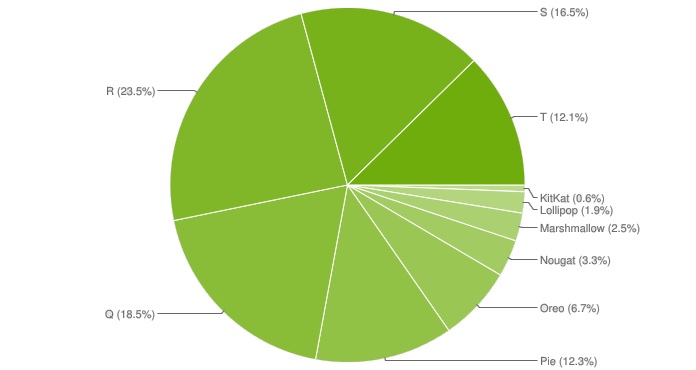 Of course, not all of the devices running Android are phones. And it's likely that many of these older devices are no longer supported. Android OEMs weren't very good at offering long-term software support, especially when it came to cheap Android phones. However, that's starting to change, with companies like Samsung, OnePlus, Xiaomi, and others extending their support promises to update phones through multiple OS versions and several years of software updates.
Even Motorola, which still tends to fall behind the pack, has started getting better at offering longer software support. LG has also kept its promise and rolled out Android 13 to its 2020 flagship phones, including the LG Wing.
Are you still waiting to get the latest version of Android on your phone? Are you on an even older version of Android? Drop a comment and let us know.