"If Apple's share grows in India, it definitely helps us because we are present in a lot of the Apple premium reseller stores. So obviously, our visibility increases and to some extent, I think the iPhone growth story has also helped our story," Kartik Bakshi, Country Head, Belkin India, tells indianexpress.com, underlining how the growing popularity of iPhones is not just driving sales of its accessories but also the visibility of the brand in the world's most popular country.
Bakshi says since Belkin works closely with Apple on many of its accessories being offered for the iPhone and Mac, it benefits a premium brand like them to cater to customers who are willing to shell out slightly more for accessories. "If I use an Apple product and want an accessory from a third-party brand, I can trust Belkin because Apple approves of that," he says.
Bakshi demonstrates the brand's latest products at a closed-door media event in New Delhi (Image credit: Anuj Bhatia / Indian Express)
Although Belkin is not new to the Indian market, Bakshi says iPhone users started jumping to Belkin accessories in large numbers in the past two years. This is the same time when Apple started seeing sales of its iPhone skyrocket in India, driving sales of high-end smartphones in the country. "If you look at the last five years, iPhone growth has been exponential. In the last two years, as income levels have changed, people are buying more premium phones," he highlights a recent trend.
Bakshi, like others in the industry, notes that the growth is coming from tier-2 and 3 cities which is the reason why premium brands like Apple and Belkin are increasing focus beyond big metro cities and looking at smaller towns to tap a new customer base flush with money. "We are getting a lot more inquiries from retailers in tier-2 and 3 cities who want to work with Belkin. It may not be for all the products… it could be just charging cables, surge protectors or power banks, but that interest is coming in," he says.
For Bakshi, a lot has to do with the massive jump in sales of smartphones in the country and how Indians shop for accessories online. "Our products are accessories to [these] devices and you need our products," he said, adding that the changes in the pricing structure, reducing production costs and the expansion of its accessories beyond power banks, mice and keyboards have helped Belkin to cut across the booming market for mobile and laptop accessories .
Founded in 1983, Belkin is headquartered in Los Angeles, California. The accessories brand was acquired by Foxconn Interconnect Technology, a subsidiary of iPhone manufacturer Foxconn in 2018. Belkin owns Linksys, known for home routers and Wemo, which makes smart home products.
But for Bakshi, however, the real challenge is how to cater to more consumers who own Android smartphones in emerging markets like India.
"There will be certain products that we have designed for Apple and we are going to promote them but at the same time, we do want to also focus our energies with other phone companies like Samsung and Google," he explains. "We don't want to be too reliable only on one brand, we want to now tell people that our accessories work with phones."
The mobile accessories segment is huge in India, but it has been mostly an unorganized unbranded market. Given consumers are now choosing more premium smartphones, they are a bit more cautious about the accessories they want to buy for the phone and laptop.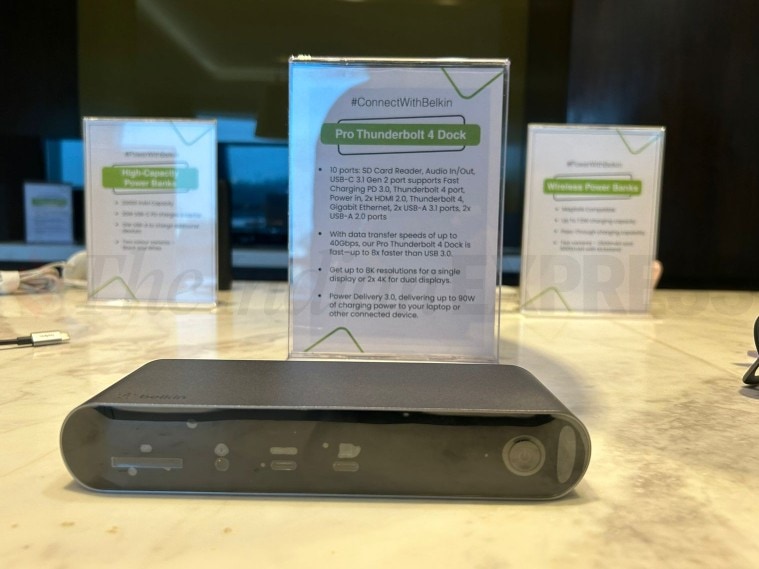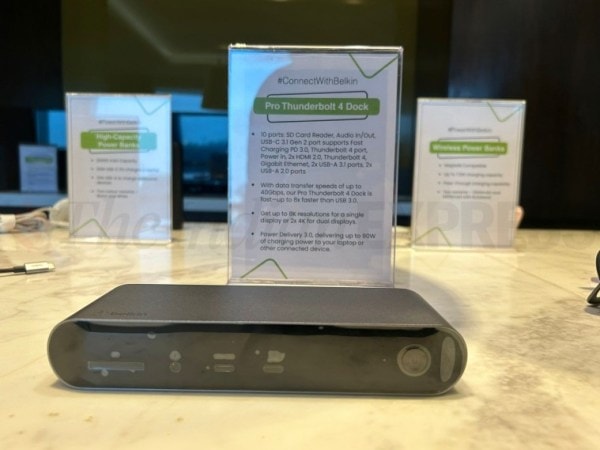 Pro Thunderbolt 4 dock that can be used with Macs and Windows laptops (Image credit: Anuj Bhatia / Indian Express)
Bakshi does see a change in consumer behavior with many consumers now understanding the difference between a low-quality accessory from a roadside vendor and a product from a well-known brand. "I think customers now have an understanding of accessories for certain products. They now ask the retailer whether the charger supports fast charging or not," he says.
The opportunity for Bakshi is how to make their products appealing so that they end up choosing a Belkin device over a similar product from other brands. With many smartphones including the iPhone 14 (review) and Galaxy S23 not shipping with chargers in the box, Bakshi is eyeing those consumers.
"This time our strategy is not to be a niche brand. We don't want to cater only to 1% of the audience. So we want to cater to anyone who's using a phone or a laptop and if they want a Belkin product it should be the right price point."