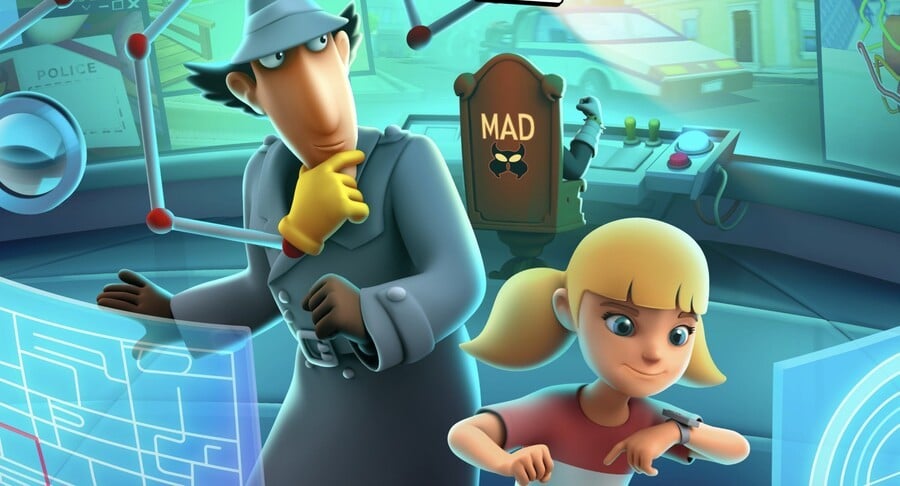 Publisher Microids has revealed the release date for its upcoming 3D adventure title, Inspector Gadget – Mad Time Party.
Launching on Switch on September 14th, 2023, the Smart Tale Games developed game will be available in physical and digital formats and will feature support for up to 4 players. Physical editions will also include 2 sticker sheets and a poster at launch.
Let's remind ourselves of the game itself, shall we?
Wowsers! Play as the iconic Inspector Gadget and join your friends in this new party game! Metro City has fallen under the control of the evil Dr. Claws. In order to save the city, Inspector Gadget must use a time machine to go back in time. Unfortunately, the machine breaks down and the inspector's ancestors are teleported to the present.
Your mission: Explore Metro City and confront Inspector Gadget's ancestors to recover the missing parts of the machine. You'll have to solve mini-game quests to unlock the bolts needed to repair it.
Features:

Embark on a fun and exciting adventure as the legendary Inspector Gadget and save Metro City from Dr. Claws!
Explore Metro City and complete quests and challenges in Adventure Mode.
Discover 16 entertaining mini games inspired by the Inspector Gadget universe, such as Count Them All, My Precious and Pass the Bomb!
Have fun with family and friends in Multiplayer mode.
Enjoy the exceptional soundtrack by Tanis Chalopin, the daughter of Inspector Gadget's creator, Jean Chalopin.
Will you be adding Inspector Gadget – Mad Time Party to your Switch repertoire? Let us know with a comment.