3D Printing is reinventing itself by trying to meet the acute shortage of medical devices, objects and even quarantine rooms
As we sit down to write how 3D printing is fighting against Coronavirus, the officially confirmed cases of Coronovirus disease worldwide are over 2.46 MN with over 165,000 deaths.
The sheer size of the Covid-19 threat makes it important for everyone to join hands and fight this dreadful pandemic.
Historically, 3D printers have been used mostly for prototyping industrial items. Sometimes, 3D printed objects have also been used for aesthetic purposes, like printing a miniature of your favorite super-hero.
Different countries have seen 3D printing grow differently. Top 3D printing companies in India, for example, have helped prototyping in a unique manner.
But this time around, 3D printing is doing new stuff: helping fight a never-before pandemic.
Why 3D printing enjoys a unique position
The NewYorker reported, on March 31, that the US had a stock of about 100 and sixty thousand ventilators. Sadly, the news reported, many of them weren't functioning properly.
3D printing may be capable of manufacturing such life-saving equipment.
The 3-D printing and manufacturing facilities need some retooling to achieve this, but the goal is achievable.
3D printing facilities come in handy at such times because they can accommodate "rapid prototyping", the report mentioned. Traditional manufacturing, on the other hand, is dependent upon making molds, which is a time-consuming process.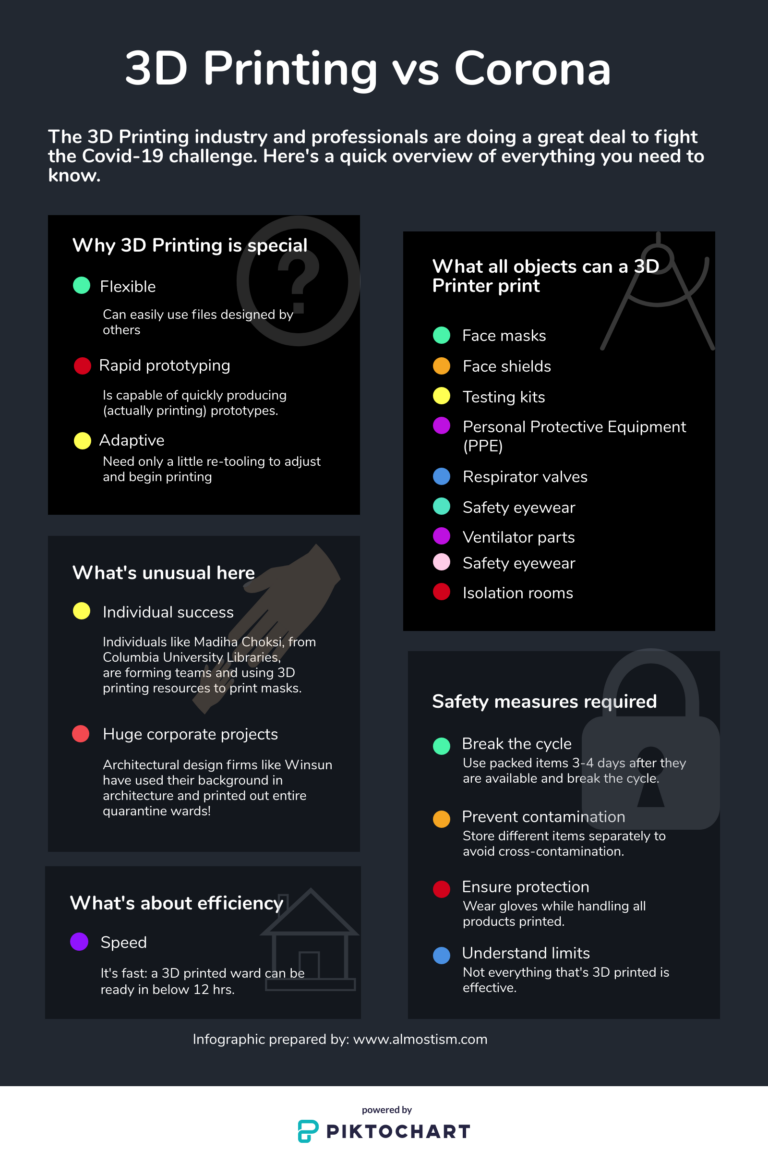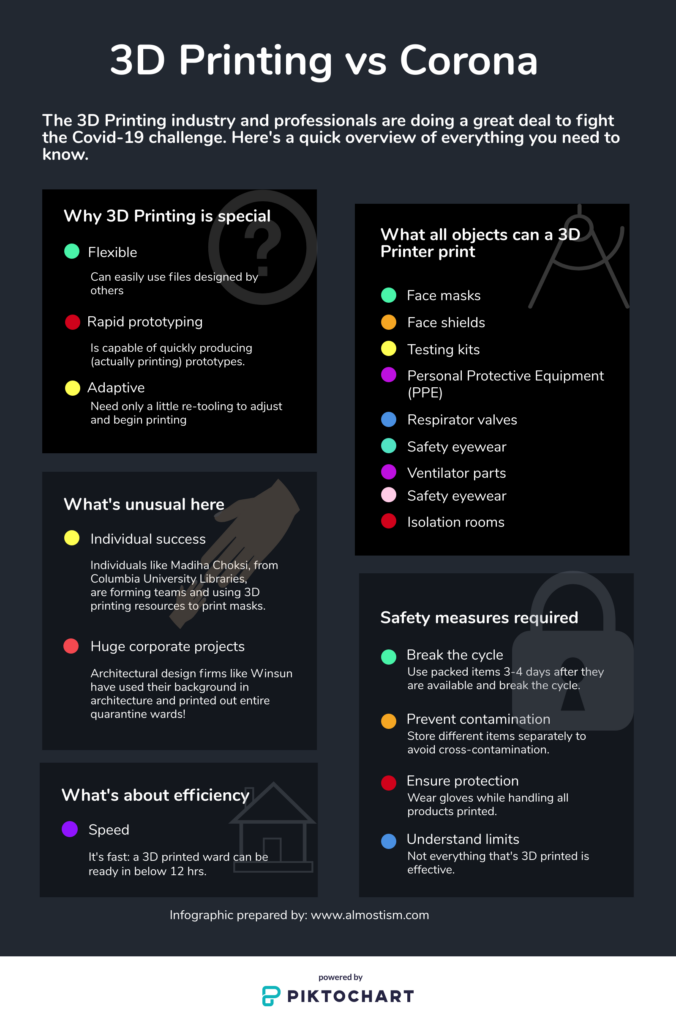 What all medical objects can be easily printed in 3D printing
Printing complex medical equipment is not feasible at the moment. And even if such equipment could be made, questions about their reliability might persist since their testing would take a long time.
But there is so much that a 3D printing company could do.
Here's a list of the various medical objects 3D printer could print:
Face masks
Face shields
Test kits
Personal Protective Equipment (PPE)
Respirator valves
Safety eyewear
Ventilator parts
Door openers (that prevent further spread of infection)
Temporary housing (yes!)
What 3D printing companies are doing to fight the Covid-19 pandemic
3D printing companies are offering their machines and software to assist healthcare warriors in anyway they can. This goes a long way in preventing further spread, testing better, improving caregiving conditions and protecting doctors, nurses, medical professionals, patients' attendants and the general population.
3D printing companies are manufacturing – actually printing – a wide variety of medical objects, protective equipment, testing kits accessories and more.
We will cover two unusual efforts:
Quarantine rooms
Yes, 3D printing is also making entire quarantine rooms or quarantine booths!
Winsun, a 3D printing firm specializing in architectural work, has printed isolation wards. While 3D printing in the construction sector is not a novelty, using the technology to creatively fight the pandemic is certainly worthy of respect.
Using recyclable materials including construction rubble, the company has printed safe, environment-friendly quarantine wards. These wards are equipped with a shower and air conditioning too. The company claims the quarantine rooms meet the required standards.
Face shields
While the product isn't technically complicated, the efforts put behind them deserve praise.
Madiha Choksi, a research technologist at the Columbia University Libraries, is behind this task. Upon learning about the shortage of PPE, she first researched the various 3D printing options and models available.
Next, she put to use two 3D printers. Making some improvements in the printing files she had, Choksi turned out a few face-shield samples. When they were found fit for use, she took up the challenge to mass produce them.
With the help of volunteers who later joined her, Choksi has already donated 7,500 protective face shields to hospitals in New York city.
Safety measures required
3D printing is helpful in times of pandemics like this, but it isn't magical.
What's more, it cannot be exempt from any safety precautions required for healthcare equipment.
We have listed below some of the precautions manufacturers need to take. If you are a 3D printing company, a member of the 3D printing community, you sell, service or use 3D open-source printers or simply take up 3D printing projects, it'll be a good idea for you to bear these points in mind ( and also spread the word):
If you use plastic to manufacture any safety equipment, remember there is no clear understanding of how long the Corona virus can survive on plastic. However, many experts believe that the period is around 2-3 days. So, it will be a good idea to store packed items for at least 3-4 days before you start distributing them.
Be sure to store different items in different places. This will minimize the risk of one set contaminating the other, technically called cross-contamination.
Handle objects carefully. Use gloves at all times. This is important because otherwise you will end up contaminating the very items expected to protect human lives.
As they say, just because something can be 3-D printed doesn't mean it will be as effective as a traditionally manufactured item. It's critical to study key parameters carefully before commencing 3-D printing.
Challenges ahead
We are seeing technology improving human lives in a number of ways. For example, artificial intelligence is used in drug development. Though not a technology leader in AI, India is using AI for agriculture remarkably well.
So it should be no surprise that people are using 3D printing to fight Covid-19.
Promising as it may sound, the use of 3D printing in fighting Covid-19 is full of risks, challenges and complications.
We divide them into four broad categories:
Technical and operational challenges
Hygiene standards and medical compliance
Commercial and legal compliance
Technical and operational challenges
Full-face masks should fit the breathing equipment setup, tubing and wiring of the equipment already in use in hospitals.
In a hurry to supply masks, gloves, protective gear or ventilator accessories, 3D printing companies will have to resort to reverse engineering to avoid reinventing the wheel. Reverse engineering may not fully explain the intricacies of some products. As a result, sub-standard items may reach patients and healthcare professionals.
Hygiene standards and medical compliance
The pieces you manufacture or print using your 3d printing need to be approved for safety by various bodies.
The quality of the material you use for 3D printing should not be of the type that easily encourages contamination.
Looking at the current scenario, various regulatory bodies are in a difficult situation. If they relax standards, these equipment could bring in unforeseen risks and cause collateral damage. If they do not relax standards, patients who could have otherwise been saved might die for want of such devices and protection equipment.
Most 3D printing companies aren't aware of the various hygiene standards that dictate the manufacture of medical items. As a result, some 3D printed products to fight Covid-19 could actually end up worsening the already grim situation.
Commercial and legal compliance
Most devices and accessories for advanced medical equipment such as ventilators are covered by patents and intellectual property rights. When you supply 3D printing parts for such equipment, you might be unwittingly breaking the IP rights.
Because these 3D printed items aren't produced by compliant organizations, any malfunctions caused due to performance or quality issues of the items could become messy from the legal point of view. It is very difficult to fix answerability and responsibilities in such cases.
Wrap-ups
There's absolutely no doubt that every individual, every industry is working harder than ever to fight the pandemic. Naturally, it's interesting to watch how the 3D printing industry is fighting Covid-19.
As mentioned earlier, 3D printing has some amazing features and strengths. For instance, there is no match for 3D printing when it comes to rapid prototyping.
3-D printing companies, therefore, are at a special advantage.
That said, however, there are some challenges too. And some of these challenges are too massive to be overcome in a short window that the Coronavirus pandemic offers to fight back.
By all means, use 3-D printed devices, masks or similar protective gear. But also remember, they are a stop-gap arrangement until a vaccine is found.
We'll wrap with this line from 3D Printing Industry site: Just because something can be 3D printed, doesn't mean it should be 3D printed.
Feature Image courtesy Photo by Hush Naidoo on Unsplash