CNN
—

When Bold Glamor launched on TikTok earlier this year, it started a storm on social media. The viral beautifying filter uses machine learning technology to edit users' facial features in photographs and videos, sculpting cheekbones, smoothing out skin and brightening eyes, all with unsettling realism.
Some on social media were impressed by the technology, but many expressed concern about how filters can promote unrealistic beauty standards.
While there is growing unease about the way technology is impacting our ideas of beauty, some believe it can also change our attitudes towards beauty for the better.
CNN asked experts to identify the innovations that are having a positive effect.
Digital filters and augmented reality (AR) have become an intrinsic part of how people represent themselves online. City University of London in 2021 reported that 90% of young women surveyed in the UK sometimes use a filter when posting a selfie; of these, more than half said they use a filter half of the time or more. According to research by the Dove Self-Esteem Project, 80% of girls surveyed in the US distort the way they look online by the age of 13.
'I wish I did look like this': See user reactions to viral, new beauty filter
But that's not all negative for those who have grown up with social media, according to Hannah Mauser, beauty analyst at consumer trend forecasting company WGSN. She points out that there have been positive movements on platforms such as TikTok, from #AcnePositivity to #BodyHairPositivity, which encourages people to embrace the skin they're in.
"Gen Z has played a major role in destigmatizing these beauty narratives as they confidently say no to 'normal' and challenge topics previously deemed as taboo," she said.
Florencia Solari, a creative AR technologist and filter creator, echoes this. "Thanks to social media, we've been able to access a multi-diverse pool of representation of what beauty looks like," she said.
"Instagram filters can help us play and experiment with different appearances. We don't particularly have to expose our face to the whole world at all times and this doesn't always mean low confidence, it can be a means for experimentation."
Solari added that there is scope to try on a different persona, or even experiment with gender expression, a different face, makeup looks, or hair color thanks to AR.
Sampo Parkkinen, CEO of Revieve Inc., a beauty tech provider that offers personalized digital beauty experiences, says that brands can harness AR to let customers try on cosmetics virtually, "without 'beautification' or other filters."
"This 'authentic try-on' capability may not appear as shiny or beautiful as an artificially 'beautified' virtual try-on, but ultimately provides the consumer with a better real-life experience with the brand," he said.
Olivia Houghton, beauty and wellness lead at strategic foresight agency The Future Laboratory, said that consumers are looking for "more empathetic, intimate and individualized uses of technology."
She gave the example of new beauty commerce app Trendio, which provides a personalized, curated shopping experience. "This offers live and pre-recorded video content to help users make informed decisions about products before buying," she said. "It immerses users with a TikTok-like scrolling experience, where they can flick through videos of products, watching in full the ones that pique their interest."
Trendio is developing artificial intelligence (AI) models to automatically edit videos, and surface user-specific content.
AI-powered personalization technology can also provide a more inclusive experience, says Simi Lindgren, the founder and CEO of Yuty, a platform that makes it easier to shop for beauty products, using AI for "hyper-personalization."
She said that finding the right beauty products can be challenging, particularly for consumers from underrepresented demographics. "From mismatched shades to a lack of product availability, underrepresented beauty consumers face difficulty with searching for compatible products," explained Lindgren. "Personalization, enabled by AI, can restore social equity for the beauty industry."
This year has seen big names in the beauty industry developing technologies for people with disabilities.
Estée Lauder Companies launched a voice-enabled makeup assistant (VMA) app for those with visual impairments. The app uses smart mirror technology to identify makeup on the user's face and an audio guide describes where touch-ups may be required.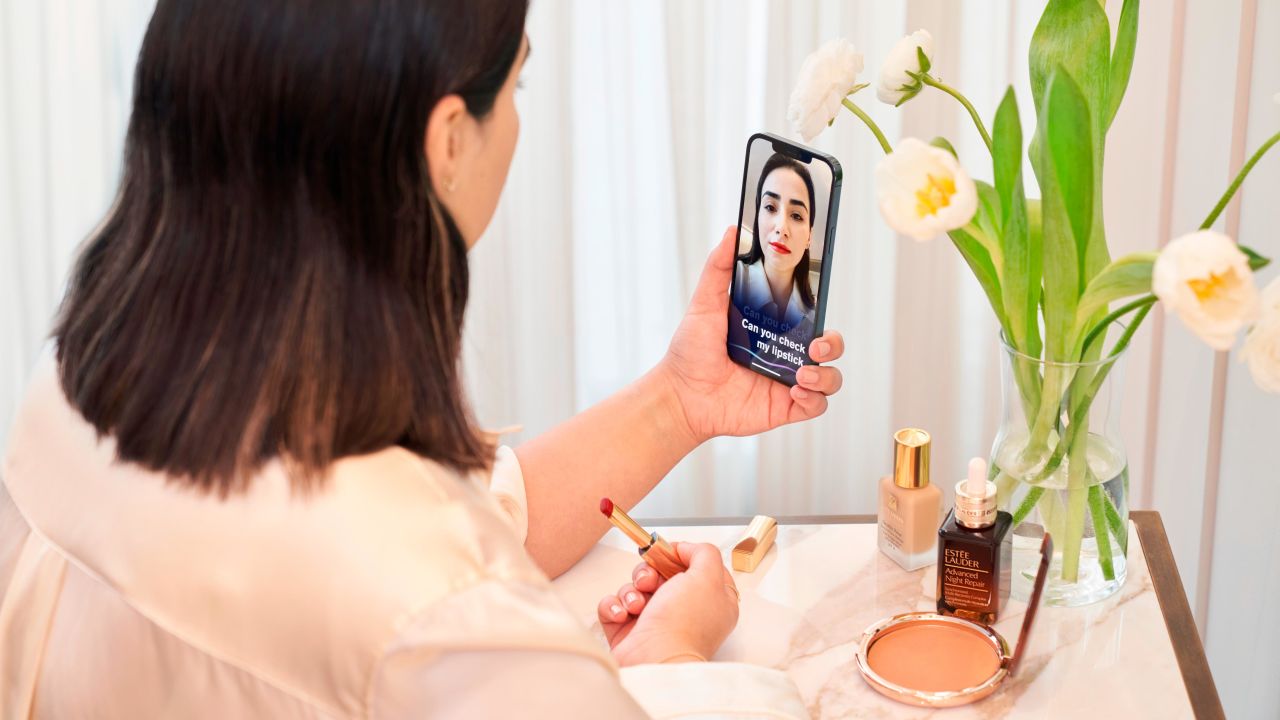 In January, at the CES 2023 tech show, L'Oréal unveiled a handheld makeup applicator called HAPTA, designed to assist people who have limited mobility or tremors.
Guive Balooch, president of Tech and Open Innovation at L'Oréal, said he hopes that one day, technological advances will mean that having reduced motor skills as a result of conditions such as spinal cord injury, Parkinson's, multiple sclerosis, or rheumatoid arthritis needn 't be a barrier to using beauty products.
"These technologies are about empowering people to have the beauty they want to have. It's really about personalization and beauty for every person," he said.
Our ideas of beauty are reflected in video game characters and the avatars that people use to represent themselves in virtual environments. Beauty analyst Mauser said that brands are looking to increase inclusivity of avatars in video games.
In 2022, beauty brand Dove partnered with Women in Games, Epic Games, and female-led games studio Toya to "create a healthier, more diverse representation of women and girls in games."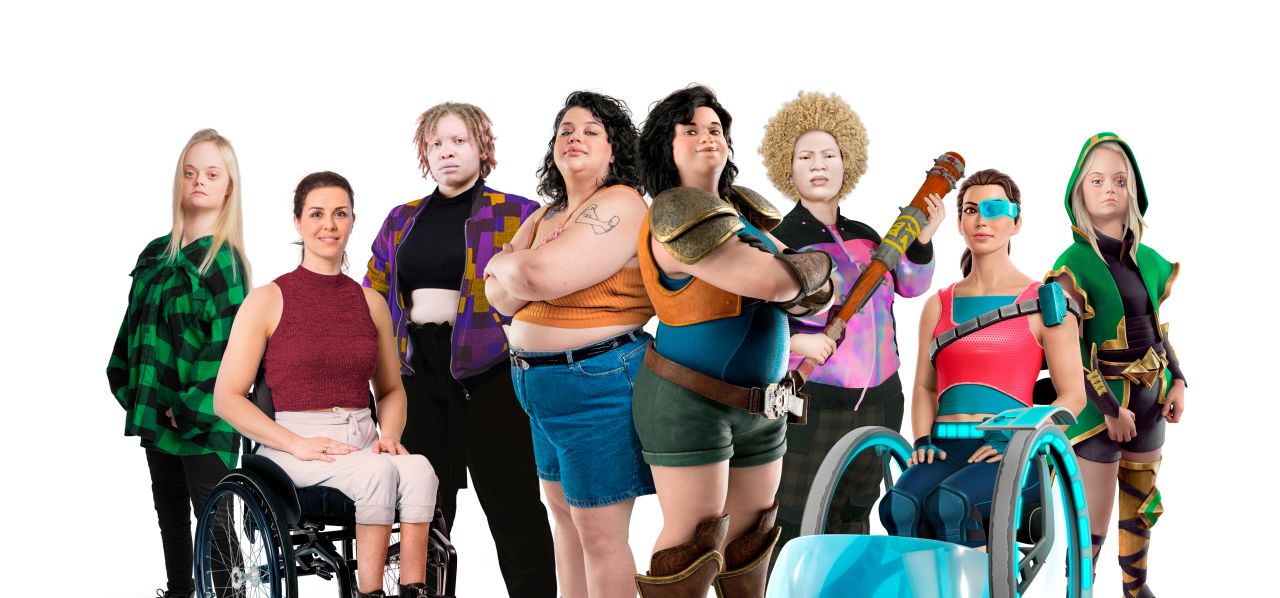 "Not only did the partnership challenge the representation of beauty online, but also offered education courses for game creators, an art collection dedicated to increasing inclusivity, and Super U Story – a first-of-its-kind self-esteem education platform on Roblox ," Mauser said.
Solari anticipates that in the future, the way we represent ourselves in the digital space will move way from our real-world appearance. She talks about the concept of avatars as "digital twins" that can help us express our persona online.
"As our digital twins take over, our identity and the persona that we embody will continue to flow and transmute, possibly taking a life of their own, while holding the essence of who we are," she said.
Top image: L'Oréal's HAPTA – a handheld makeup applicator for people who have limited mobility or tremors.