We've known for years that Apple is working on its first augmented reality headset, and now we know what it is: the Apple Vision Pro.
Vision Pro is an AR headset designed to run all your favorite iOS and iPadOS apps – plus a few of its own – along with some unique features like 3D photo and video capture.
It's also extraordinarily expensive, and won't launch for months – and, even then, will only be available in the US at first.
Here's everything you need to know about Vision Pro.
When will the Apple Vision Pro go on sale?
Apple unveiled the Vison Pro headset at its WWDC 2023 convention, devoting more than 45 minutes to an in-depth reveal of the hardware.
Don't think that means you can pick one up though: the headset doesn't go on sale until early 2024.
Even then, it will only launch in the US at first, and only be available from official Apple stores.
The company only says that other countries will follow "later next year," but there's no word on exactly when or where.
How much will the Vision Pro headset cost?
Prepare to be shocked: Apple's first AR/VR headset is expensive.
When it launches the Reality Pro will start from $3,499 in the US – so far no other currencies have been confirmed.
We're not sure what pricing options there'll be, but Apple has talked up the modularity and customisability of the design, so expect to be able to pay a premium for different headband options, plus the option Zeiss corrective lenses, rather than having a range of CPUs or storage to choose between.
$3,499 is expensive even by VR standards. It's more than double the $1,499/£1,499 Meta Quest Pro, and the equivalent of seven of the upcoming $499 Meta Quest 3 headset.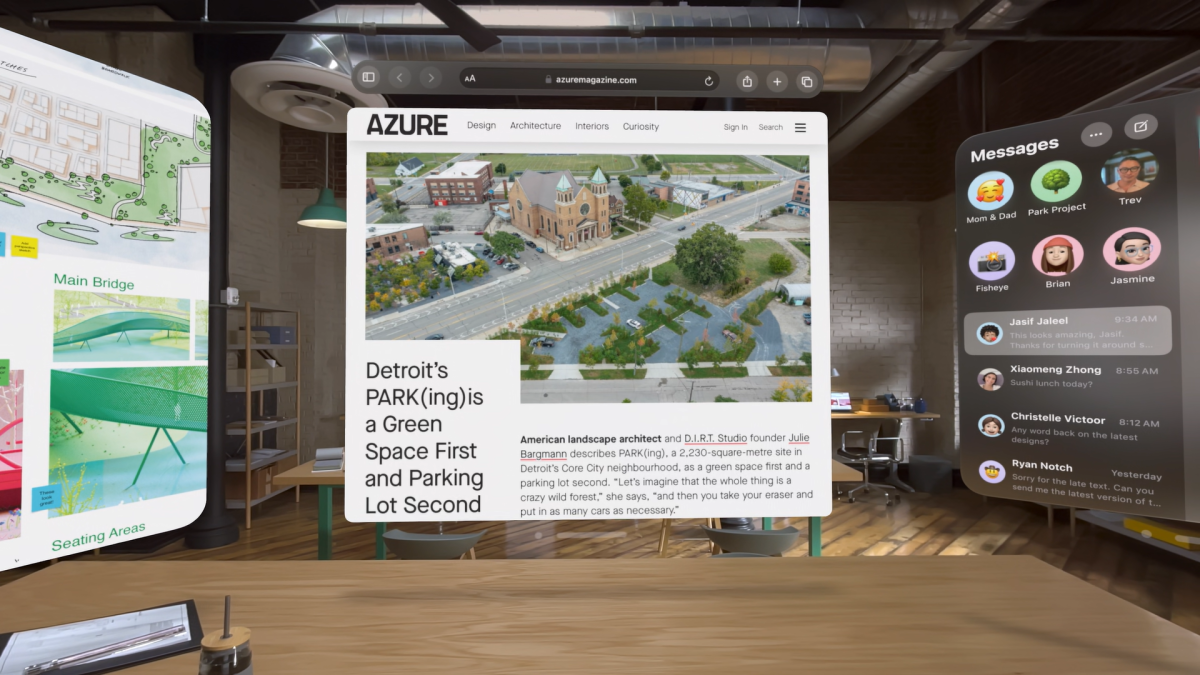 apples
The saving grace is that according to Bloomberg Apple could be working on a much cheaper headset for release sometime in 2024. Per The Information, Apple apparently wants to release a more affordable headset, though 'affordable' in Apple's eyes is a price similar to that of the MetaQuest Pro.
It's said to be achieving this aim by using lower-tier components than the top-end headset, with a lower display resolution, less processing power, and maybe even the omission of the low-latency audio chipset.
Ming-Chi Kuo thinks the affordable follow-up is further off though. He reports that Apple is working on a pair of successors, "a high-end and a low-end," but that they won't arrive until 2025.
What to expect from Apple's AR/VR headset
It may be expensive, but the Vision Pro is like no other headset on the market in design or specs.
Design
In terms of general design, the headset looks like a cross between the Meta Quest Pro and a ski mask, with lightweight fabrics and materials that should help maintain a comfortable fit over longer sessions.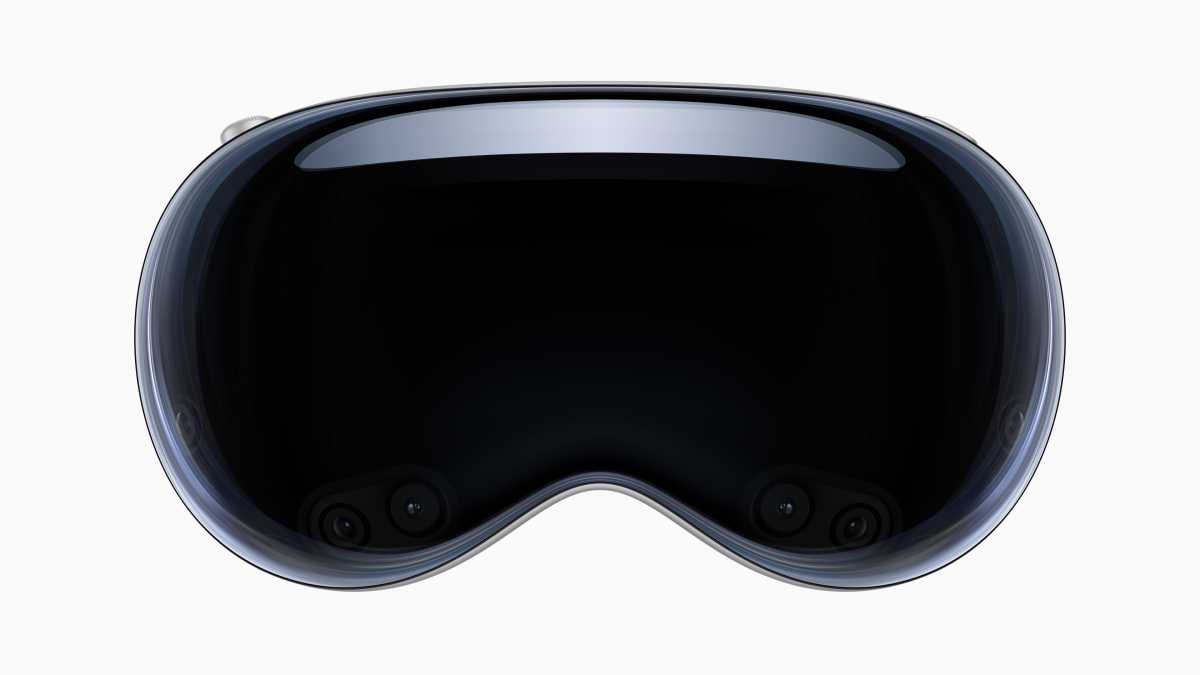 apples
The front of the headset is a 3D-curved sheet of laminated glass which attaches to the aluminum alloy frame. This is simple in design, with a single button, a digital rotating crown, and vents for cooling.
Next comes the light seal, which will be available in "a range of shapes and sizes," and flexes to conform to your face for a comfortable and precise fit.
Then are the flexible straps which contain the two audio units – or 'audio pods' as Apple calls them – which position you to keep the speakers close to your ears.
apples
Finally, a 3D knitted headband has a stretchy structure, ribbed for your pleasure. It attaches to the rest of the headset with a simple click mechanism, so it should be quick and easy to swap in for a different size or style, much like on the Apple Watch. There's also an adjustment dial for more fine-tuned tweaks.
Early leaks suggested that the headset wasn't designed to work for people who wear glasses, and sadly that looks to be the case. Apple's solution is (unprisingly) expensive: custom Zeiss optical inserts which magnetically attach to the headset's lenses, available to suit a range of prescriptions. There's no word on pricing here, but don't expect it to be cheap.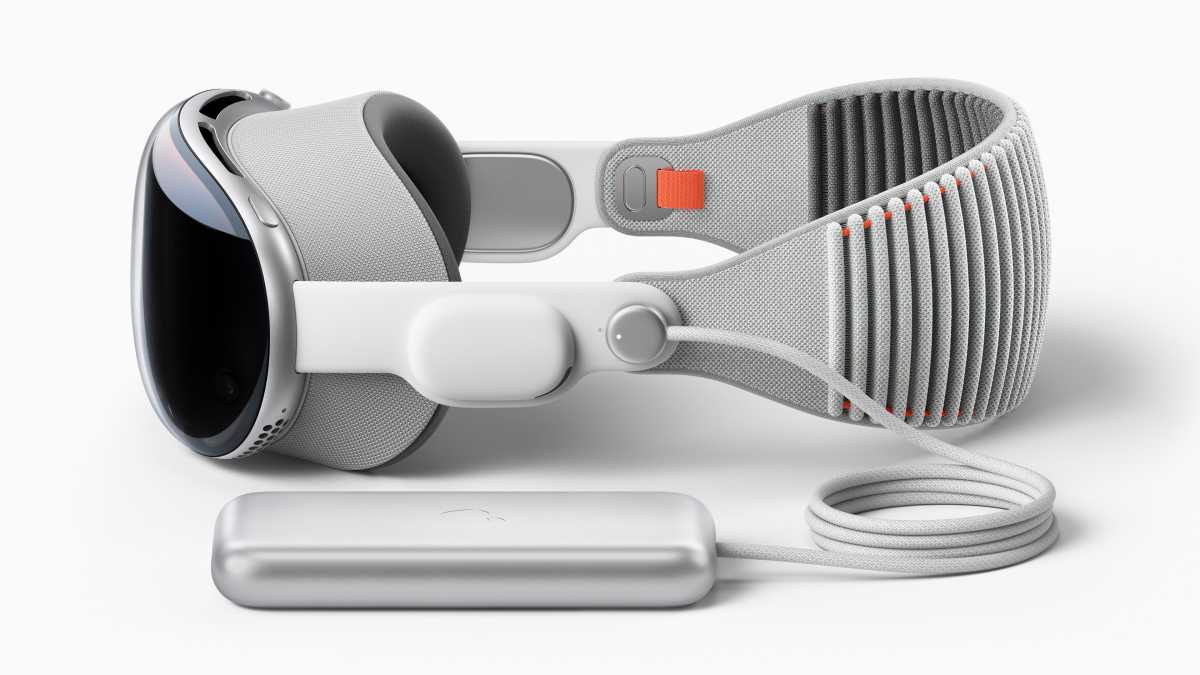 apples
Apple so far hasn't said how much the headset weighs, but did admit that to keep weight low it's taken the battery out of the headset and put it into an aluminum battery pack which attaches by a "supple, woven cable." Lovely.
The most unique thing about the design of the Vision Pro is what it doesn't have: controllers. Apple intends you to control the headset solely with your eyes, hands, and voice, so there are no potentially cumbersome controls to get to grips with.
Specs, tracking, and performance
The core of the Vision Pro hardware is one of Apple's M2 chips – found across its Mac line, including the new 15in MacBook Air revealed at the same time as the headset.
That guarantees significant power, almost certainly more than is found in any rival AR headset right now.
The M2 is paired with a new chip running parallel: R1.
apples
This silicon is designed for real-time sensor processing, handling the inputs from the headset's 12 cameras, five sensors, and six microphones while striving to keep latency as low as possible – down to as little as 12ms according to the company, less than the time it takes you to blink.
All that tracking is complicated, too. The cameras are used both to supply a visual feed of the world to you and to track your eye and hand movements for controls, with all the sensors combining to make the headset view as natural and immersive as possible.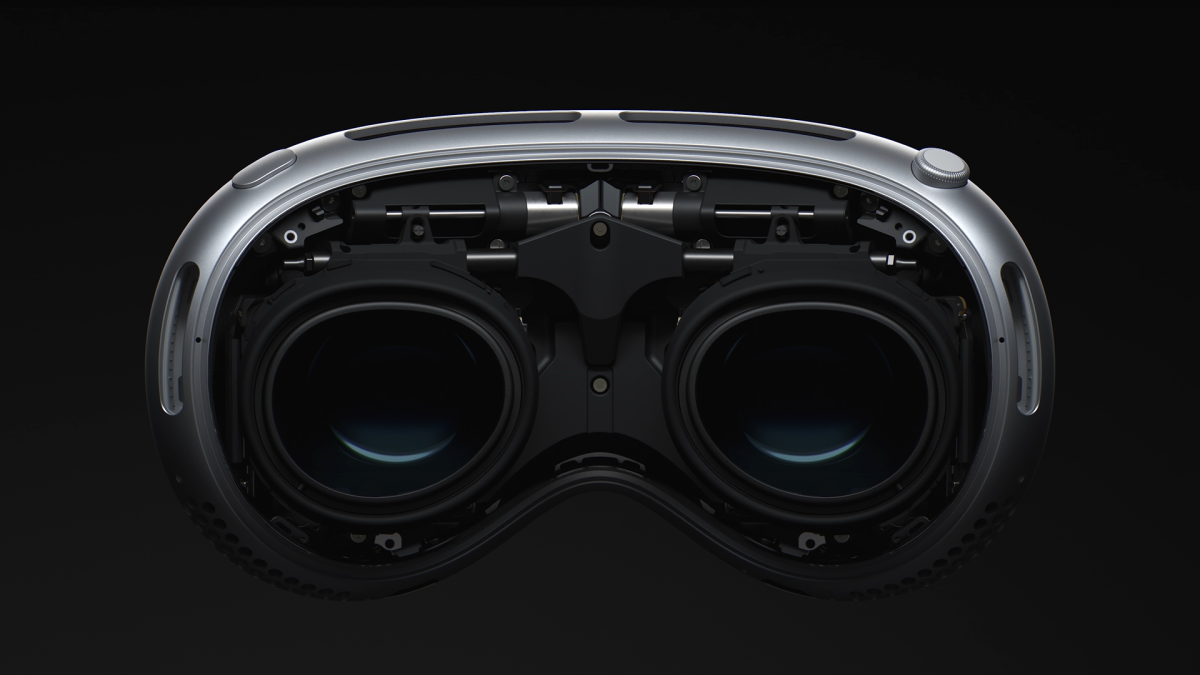 apples
The displays are similarly impressive. There are 23 million pixels across the two microOLED display units, each of which is the size of a postage stamp. That means each eye gets a screen with a higher resolution than a 4K TV, allowing you to watch 4K content and read small text with clarity.
What's most surprising is that the headset actually packs a third display – on the outside. This curved OLED panel is designed to show your eyes to the people in the room with you, using a feed transmitted by the camera inside the headset.
The screen can react to what you're doing – going opaque when you're in fully immersive content, for example – or to people in the room, bringing your eyes into view whenever someone comes close to talk to you.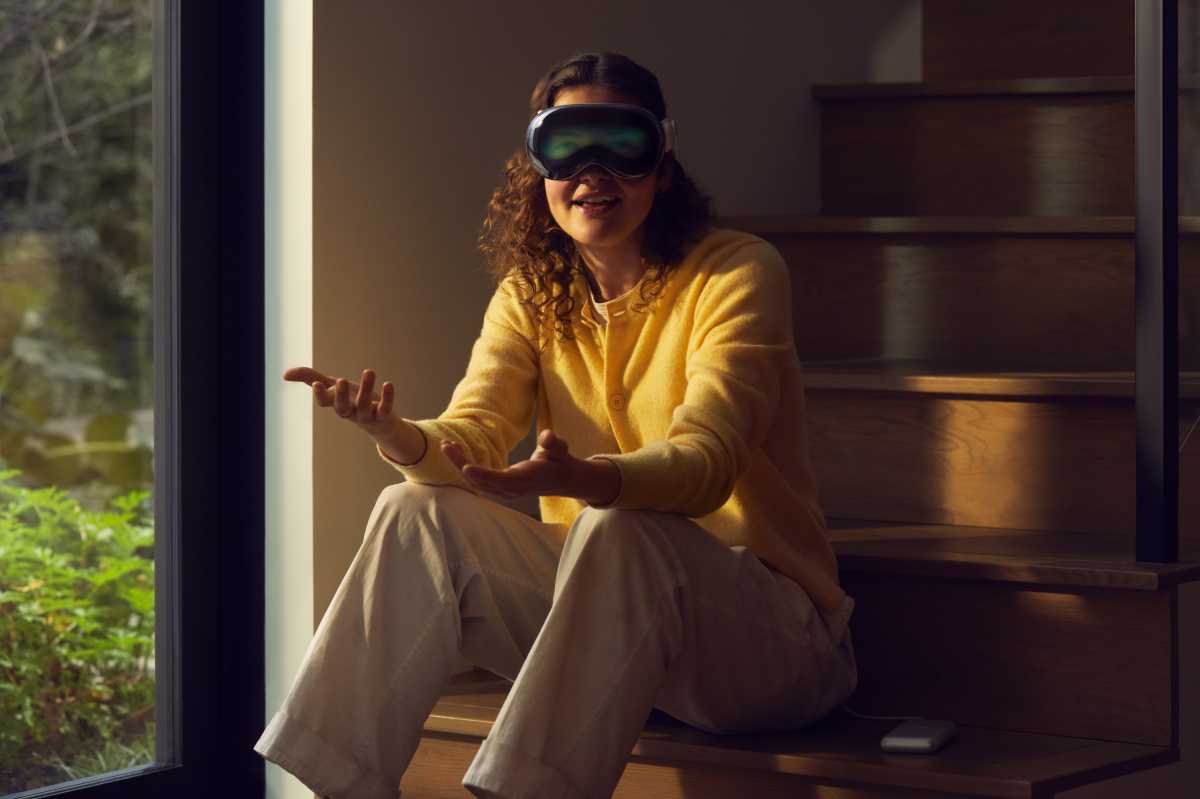 apples
As for audio, the two 'audio pods' each have two drivers, and use audio ray-tracing to tune their 'ambient Spatial Audio' to suit the exact size, layout, and materials of your room.
The downside to all this power is battery life. While Apple touts that this is an "all-day" headset while plugged into mains power, if you're on battery it only lasts up to two hours. That means this doesn't yet feel like tech ready for travel or using out and about, despite Apple's marketing to that effect.
Software and features
So, for all that hardware, what Vision Pro actually does do?
Well, at a basic level the software – dubbed visionOS – lets you open all your usual apps on a private display, including multi-tasking, so that you can browse the web, work on a presentation, on what feels to you like a gigantic displays.
Apple says that "hundreds of thousands" of iOS and iPadOS apps will be compatible with the hardware, along with a dedicated app store for software designed specifically for Vision Pro – including a Disney+ app that Disney CEO Bob Iger came to WWDC to show off.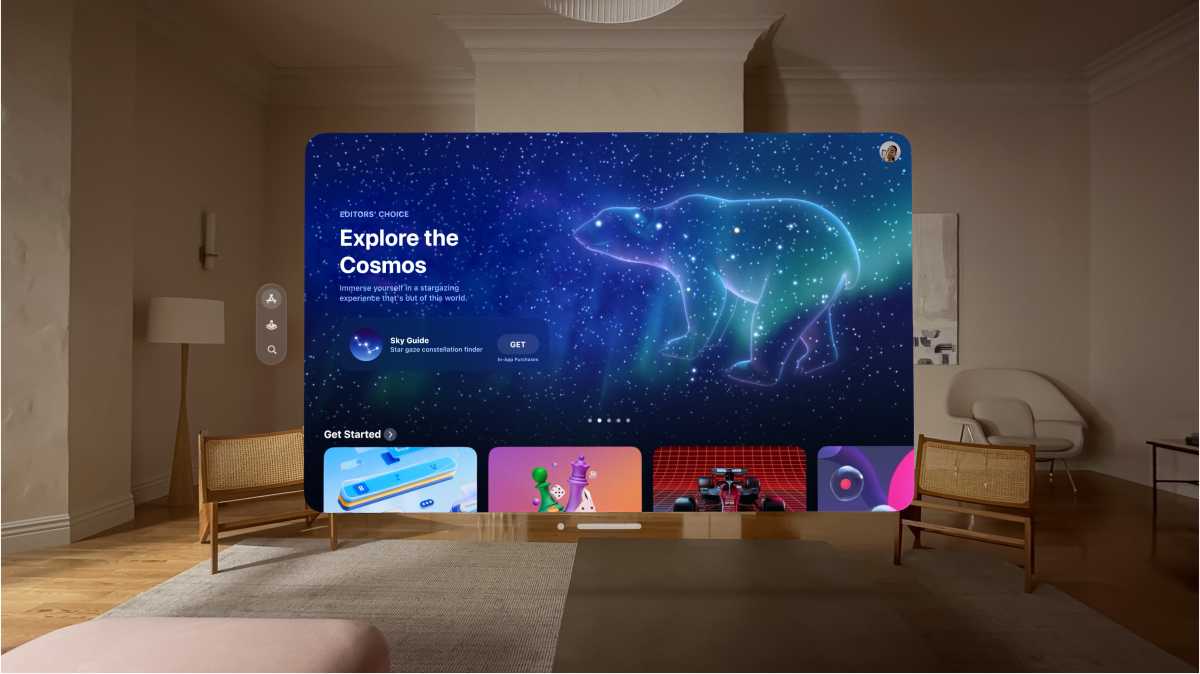 apples
You can see those apps floating around in the room you're in – or, technically, a camera feed of that room – or you can replace it with immersive 3D environments if you'd rather be working in the rainforest or the cockpit of an X-Wings.
The headset lets you browse photos or watch video content, and will automatically dim your surroundings as it does so. There are some neat effects here too – panoramic photos will wrap around you, 3D movies like Avatar will display with full effects, and custom new Spatial Audio tech delivers surround sound.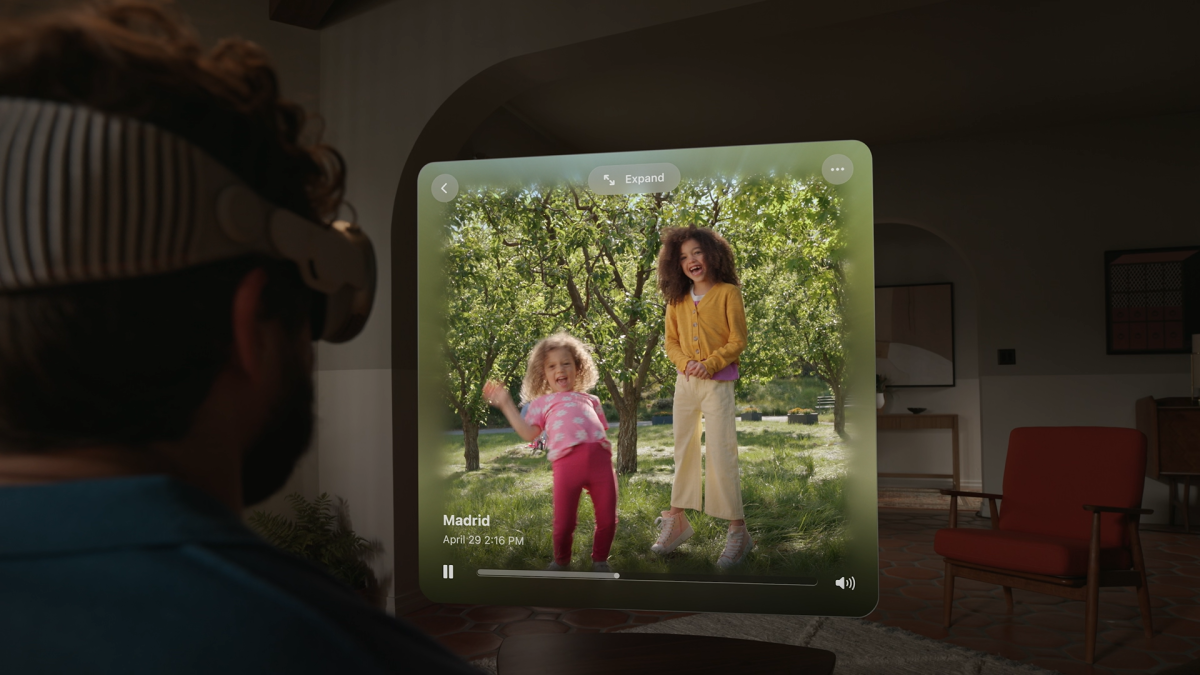 apples
You can even use the headset to create 3D content, but we're not sure who will. You've got to be wearing the headset while you take 3D photos or record 3D video, adding a dystopian edge to Apple's vision of capturing treasured family memories in three dimensions.
Naturally the headset can sync to your iPhone, iPad, or Mac, so all of your content and accounts carry across.
More impressively, you can wirelessly stream content from other hardware. Just looking at a MacBook screen can transfer the contents of its display to the headset interface, letting you work privately on files while the laptop screen remains blank.
For the most part, the headset is controlled with eye-tracking, gestures, and voice controls – including dictation for messaging – but if you need to get on with proper work you can also connect up a Bluetooth keyboard or mouse for a more traditional experience .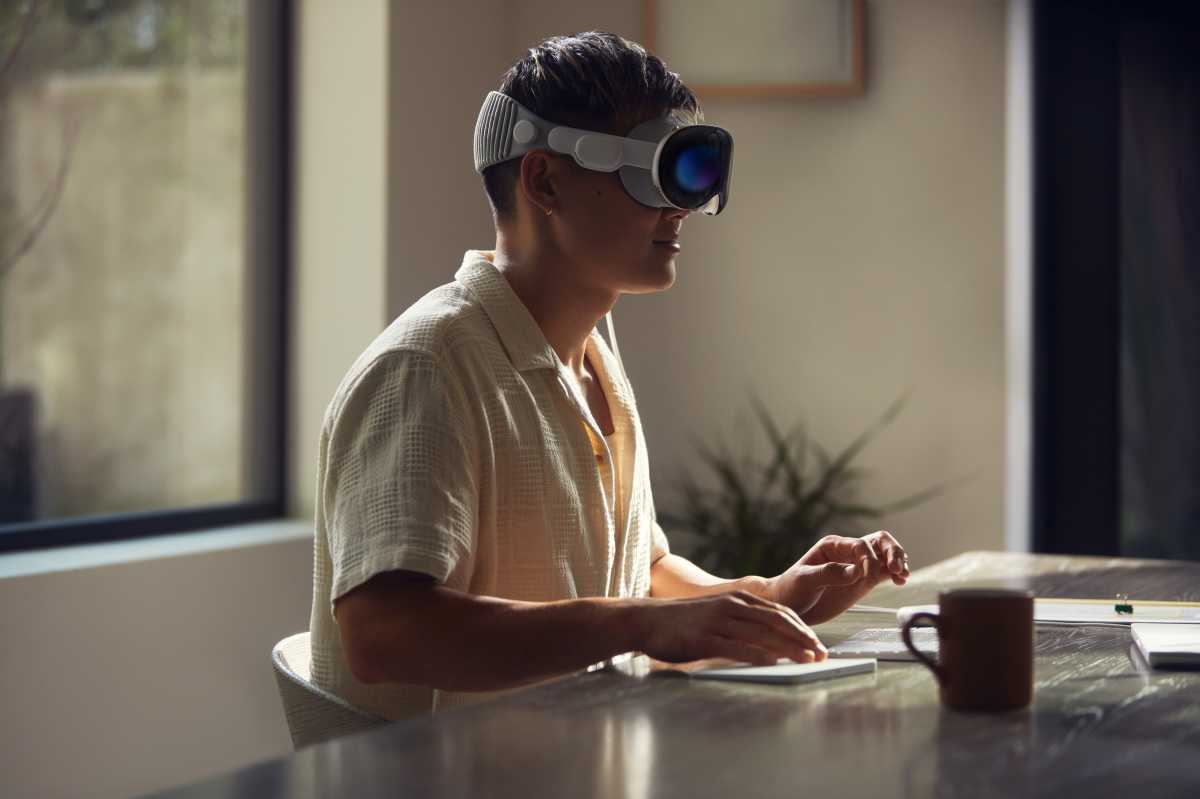 apples
You can even use the headset for FaceTime calls, though with a catch: since no-one wants to see your face behind a visor, Apple is instead using the eye-tracking tech to render a 3D digital avatar of you which recreates your facial movements exactly (well, ish – even Apple's WWDC demo wasn't entirely convincing here).
As for security, Apple has introduced Optic ID, an eye-scanning tech which recognizes the unique patterns of your iris. This works for Apple Pay, App Store purchases, and auto-fill passwords as you'd expect, along with offering handy privacy for users of a shared headset.